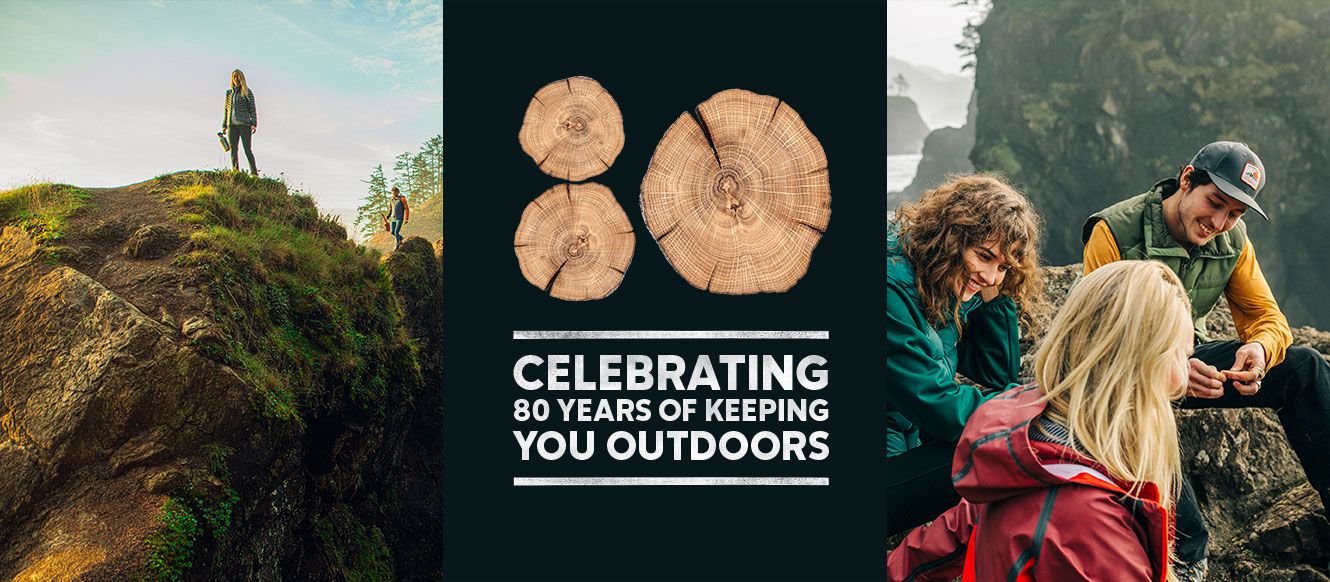 For more than 80 years, Columbia Sportswear Company has been making gear for people who enjoy the outdoors in the Pacific Northwest and far beyond. Chairman Gert Boyle has been at the helm for nearly 50 of those years and her Tough Mother persona helped grow Columbia into the global sportswear brand it is today. We're still based in Portland, Oregon and still making no-nonsense apparel, footwear, and accessories to keep you warm, dry, cool, and protected no matter what. Our innovative gear, Pacific Northwest heritage, irreverent spirit, and family business ethos is what sets us apart.

Gert's parents were immigrants who fled Nazi Germany in 1938 and settled in Portland where they purchased a small hat manufacturer, naming it the Columbia Hat Company after one of their new home's iconic rivers.

This humble beginning marked a newfound freedom and a fresh start for the family. The business eventually passed from Gert's father to her husband Neal and then to Gert herself when she went from housewife to executive overnight after Neal's sudden passing in 1970.

Today, Gert's son Tim Boyle is our longtime CEO and her grandson Joe Boyle is Columbia brand president. The family—like our business—has experienced its ups and downs, but enjoying the outdoors together has always been integral to its success.
Columbia is made up of talented, hardworking people who are as passionate about the outdoors as you are. And while our products are available around the world, we're proud to be based in the great Pacific Northwest where the majestic forests, volcanic mountains, rugged coastline, and wide open spaces serve as our lab and playground. This is where we hike, fish, hunt, camp, climb, shred, golf, paddle, run, and just enjoy the fresh air with friends. Come join us.
2018: The next dimension of warmth is introduced with Omni-Heat™ 3D, our latest thermal-reflective technology with advanced heat retention and soft next-to-skin feel.

2018: Proud outfitter and sponsor of the world's toughest freestyle ski teams (including the U.S., Canada, Brazil, and Ukraine) at the Winter Olympics in PyeongChang.

2017: Columbia launches a revolutionary line of high-quality, eco-conscious gear built for maximum outdoor performance and minimal environmental impact.

2016: OutDry Extreme flips rainwear inside out for the ultimate in waterproof breathability. It's our first-ever raingear with a waterproof layer on the outside and a soft, wicking layer inside.

2015: Columbia Sportswear unveils "Tested Tough," as its new, global brand platform.

2014: Proud sponsors of the U.S., Canadian and Russian Freestyle Ski Teams at Sochi.

2014: TurboDown™ technology fuses Omni-Heat™ synthetic insulation with natural down.

2013: Omni-Freeze ZERO wins National Geographic Adventure's Gear of the year award.

2010: Omni-Heat Reflective is introduced, little silver dots that reflect body heat.

2005: Chairman Gert Boyle publishes her autobiography, One Tough Mother.

1996: Performance Fishing Gear, or PFG for short, is introduced.

1986: The first Bugaboo™ parka is born, revolutionizing the way alpine skiers dress.

1970: Gert Boyle, a housewife, takes over the company

1960: Gert Boyle designs first fishing vest Columbia Hat Company becomes Columbia Sportswear Company

1938: Columbia Hat Company founded in Portland, Oregon.